Here's How to Get a Title for a Motorcycle Without Title
Owning and riding a motorcycle comes with a feeling of freedom and adventure that can't be matched. The bike must be properly registered and in compliance with local laws before you take it out on the public road. This process starts with getting a title for your motorcycle.
In this guide, we'll walk you through the process of getting a title for your motorcycle in the United States. We'll cover everything from registering your bike to getting it street legal, so you can hit the open road with peace of mind.
Why is a Title Required?
A title is proof of ownership and a record of any encumbrances, such as debts or liens, on a vehicle. When a motorcycle has a lien, it indicates that the bike is collateral for a debt owed by the previous owner. An application must be filled out and submitted to the Department of Motor Vehicles in order to get a title.
The required registration documents can be obtained from your local Department of Motor Vehicles office. The DMV of your state may make these forms printable and fillable online.
The motorbike cannot be registered without the title. The motorbike title is also needed when selling or transferring ownership. A title is required to lawfully drive a vehicle.
How to Get a Title for a Motorcycle?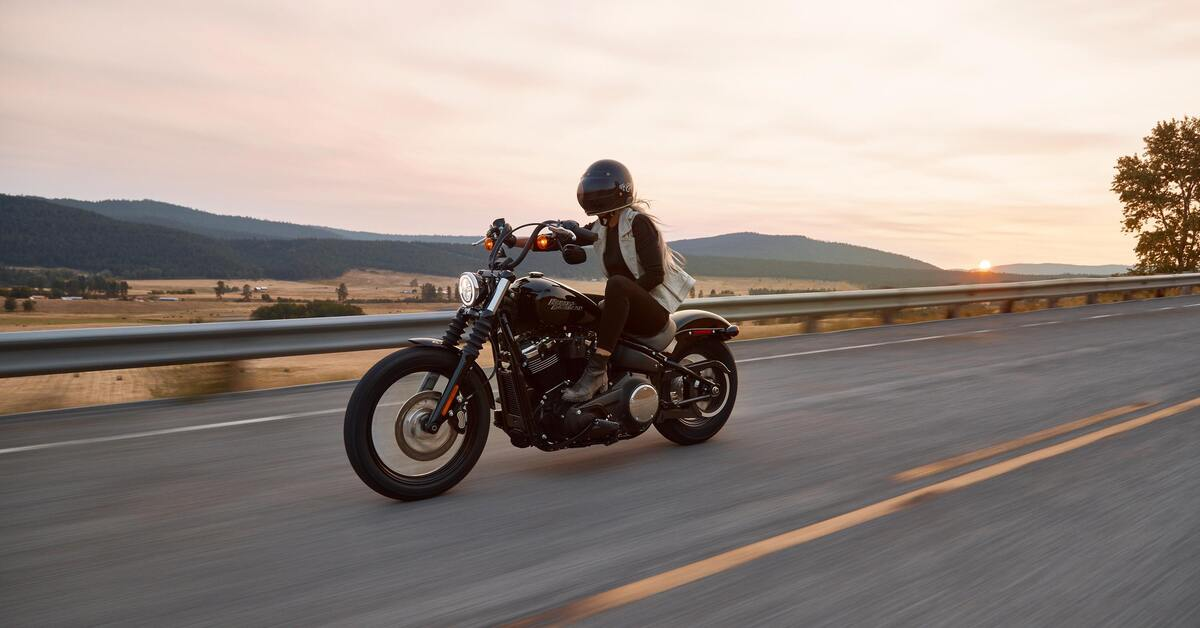 The procedure for getting a new motorcycle title varies by state. Although there are a lot of similarities between them, some specifics, such as costs and processing times are usually different.
Visit your local DMV
You need to go to your local DMV office to get a title for your motorcycle. You will need to have both the current bill of sale and the seller's original bill of sale to prove ownership. The DMV will do a check on the motorcycle VIN to verify its authenticity and ensure it has not been stolen.
After that is completed, they will be able to provide you with the paperwork for a new title. An application for a lost title typically includes the details that will appear on the title. In order to receive a replacement title from a particular state's Department of Motor Vehicles, a registered owner should have a residence in that state.
After completing the necessary paperwork and submitting the application for a missing title, the new title of your motorcycle will be sent to the address provided on the lost title form. However, obtaining a new title for a motorcycle is not a quick or easy task.
Here's How 5 Star Registration Can Make It Easier For You to Get a Title For a Motorcycle

The process of titling a motorcycle can be time-consuming and costly. However, you can save your time and money by getting help from 5 Star Registration. Experts at 5 Star Registration will handle the whole process to get a title for your motorcycle.
First, and most obviously, we need legal documentation of ownership. In order to start the motorbike titling procedure, we need a legitimate bill of sale. Motorcycles manufactured in 2008 or after and with a displacement of more than 300cc are subject to a VIN verification by the local DMV office or local police department.
If you want to be sure nothing goes wrong with the verification procedure, you should have the VIN check of your motorcycle.
You won't even have to visit the Department of Motor Vehicles; We'll take care of everything for you. We will handle all the necessary paperwork to have your motorcycle titled.
Click here to contact 5 Star Registration and start the process of titling your motorcycle today.
Things to Consider Before Buying a Motorcycle Without the Title
In order to save money, you may choose to start your search for a motorbike by contacting private sellers in your local area. It's important to take certain safety measures before purchasing a motorbike, especially if the motorcycle you desire is without a title.
You should check the bike's VIN (vehicle identification number) to know its whole history before purchasing it. VIN inspection helps to know the original owner of the motorcycle. Check out whether the motorbike is fine, and then make the purchase. A bill of sale should be signed between you and the vendor.
Go to the Department of Motor Vehicles and get a duplicate title if you've lost the one for your motorbike. A bonded title application may be required if you have bought a motorcycle without the original title.
A bill of sale showing the seller's purchase of the motorbike is also required. Typically, both the bill of sale from the time you purchased the motorcycle and the bill of sale from the time the seller purchased the bike are required by most DMVs. So, if a seller wants to sell a motorbike without a title certificate, they'll need to have these items ready to hand over.
Once you've purchased your dream bike and obtained the bills of sale, you may take it to the DMV and follow the procedures outlined in this guide to get the title.
How to Get a Title for a Motorcycle: Conclusion
If you purchase a motorcycle without a title and ride it on public roads, you run the risk of having to pay heavy fines. Therefore, getting a title for your motorcycle is a necessary process.
The cost of titling a motorbike can be expensive, especially if you don't have experience titling a motorcycle. But, with 5 Star Registration, you can avoid all of the extra costs. Before applying for the title, you need to make sure that you have all the required documents that are necessary to get a title for your motorcycle.
Calculate your savings
State location:
Arizona
Alabama
Alaska
Arizona
Arkansas
California
Colorado
Connecticut
Delaware
Florida
Georgia
Hawaii
Idaho
Illinois
Indiana
Iowa
Kansas
Kentucky
Louisiana
Maine
Maryland
Massachusetts
Michigan
Minnesota
Mississippi
Missouri
Montana
Nebraska
Nevada
New Hampshire
New Jersey
New Mexico
New York
North Carolina
North Dakota
Ohio
Oklahoma
Oregon
Pennsylvania
Rhode Island
South Carolina
South Dakota
Tennessee
Texas
Utah
Vermont
Virginia
Washington
West Virginia
Wisconsin
Wyoming
State Sales Tax Rate:
0%
Your Current Registration Cost:
5 Star Registration Cost:
$849
You'd save:
Financing your vehicle? Not a problem.
43% of registrations are financed.
$3 000