How to Make a UTV Street Legal in Pennsylvania? A Step-By-Step Guide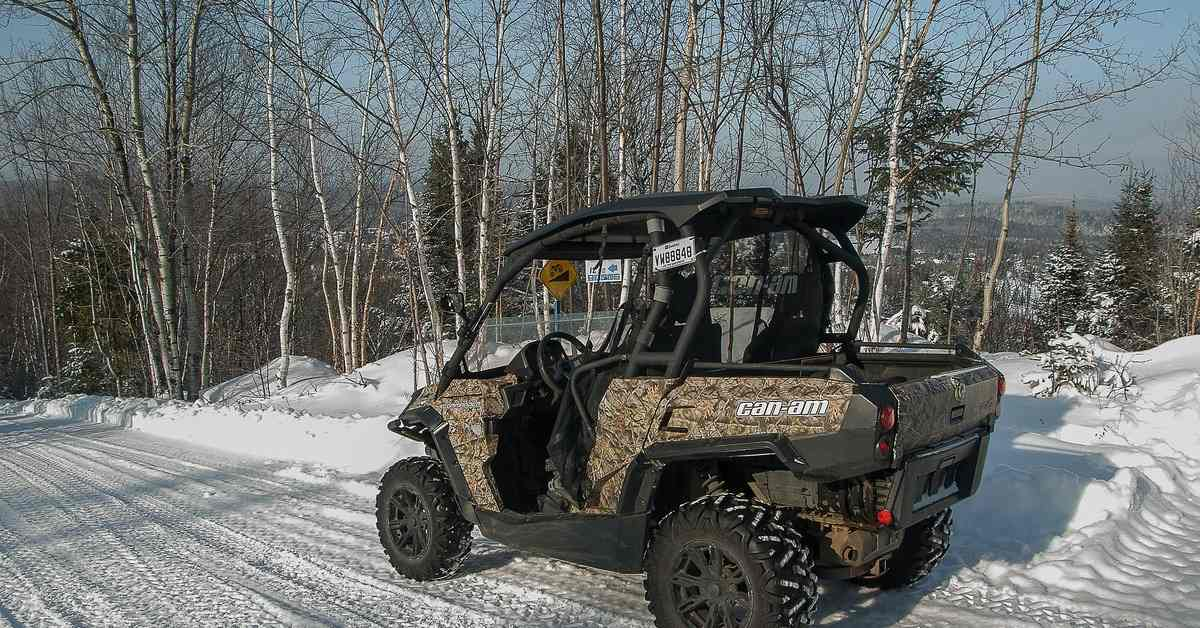 Utility terrain vehicles (UTVs) are most popular among off-road enthusiasts. These vehicles have versatile features and are strong enough to drive on challenging trails and tough surfaces.
Do you want to know how to make a UTV street legal in Pennsylvania? Driving a UTV on public streets can be a fun activity. But most states including the state of Pennsylvania only allow UTV driving on designated trails/areas and they don't allow Utility Terrain Vehicles to operate on public highways. You can contact the appropriate land management agency to find the trails and township roads designated for off-road vehicles.
The transportation laws related to off-road motor vehicles in Pennsylvania are somehow confusing, especially when we talk about making UTV street legal.
If you want your Utility Terrain Vehicle street-legal, make sure to do some modifications according to the laws specified by the Pennsylvania Department of Motor Vehicle (DMV). This article will guide you through the steps needed to make your UTV street legal.
What is UTV?
Before starting, first of all, let's understand what UTV is.
A UTV is a small, four-wheeled powerful vehicle, designed for off-road use. It has the following features:
A bench seat,
A steering wheel,
And a roll cage.
UTVs are typically used for outdoor activities such as hunting, farming, and recreation. It's crucial to remember that not all UTVs can be converted to be street-legal.
How to Make a UTV Street Legal in Pennsylvania: Step By Step
Familiarize Yourself With The State Law
Before taking any step, it is important to know the UTV/ATV operating rules in Pennsylvania. According to the Pennsylvania vehicle code, it is prohibited to drive ATVs/UTVs on public streets/state or local highways until modifying or installing the required safety equipment. However, municipal and state police may use UTVs and ATVs to perform their duties. But still, local and state police can't use UTVs on someone's private property without legal permission.
According to the Pennsylvania Department of Transportation (PennDOT), all UTVs must comply with certain rules and regulations to be considered street-legal.
UTVs must fulfill the following requirements before going to hit the public roads.
The maximum speed of 25 mph
Maximum weight of 1,800 lbs.
Width less than 65 inches
The minimum tire size of 25 inches
Registration
This step is most important because if your motorized off highway vehicle is not registered, you are not allowed to drive your UTV on public streets. To drive legally in the state of Pennsylvania, obtain registration of your utility terrain vehicle.
Speed limit
In Pennsylvania, UTVs must have a maximum speed of 25 mph. If your UTV has a higher top speed, you will need to have it modified to meet the state's requirements.
Install Safety Equipment
For making UTV street legal, make sure to install the safety equipment. The equipment includes turn signals, brake lights, headlights, and rearview mirrors. These additions are necessary to warn and alert other drivers of your vehicle's movements on the road.
Enhance your safety on the road by making your UTV visible. Here is a breakdown of the required safety equipment:
Headlights
Tail lights
Brake lights
Turn signals
 Rearview mirror
Windshield  Horn
License plate holder
Seat belts
Parking brake
You can purchase the above-mentioned components from UTV accessories stores or online retailers. It is important to make sure that the equipment you purchase should have to meet Pennsylvania's local state UTV/ATV laws and regulations.
Obtain Insurance
Once you have installed the necessary safety equipment on your UTV, the next step is to get liability insurance coverage. It is compulsory in the state of Pennsylvania that all UTVs must have insurance coverage. Your insurance policy must meet the state's minimum requirements, which include liability coverage for bodily injury and property damage.
In case of an accident, liability insurance will protect you and pay for any damages or injuries you may have caused to someone. The amount of insurance coverage required by law varies depending on the type of UTV you own.
Get a Vehicle Identification Number (VIN)
For registration of UTV and making it street legal, you should have to make sure to have a VIN. Each vehicle has a VIN, which is a special identification number given to it by the manufacturer. You will need to acquire a VIN if your UTV lacks one.
The easiest way to do this is to contact the manufacturer and request a VIN. The manufacturer will provide you with a VIN that you can use to register your UTV with the Pennsylvania Department of Transportation.
Requirements to Register UTV
After obtaining insurance coverage and VIN (if you do not have one), the next step is to register your UTV with the state of Pennsylvania. To register your UTV, you will need to provide the following information:
Proof of ownership: 
It is compulsory to provide proof of ownership of your UTV to the DOT for registration. Ownership documents consist of a title or bill of sale.
Insurance information
You must show evidence of liability insurance coverage that satisfies the state's minimum standards.
Inspection certificate
You will make sure to provide a safety inspection certificate from a certified inspection mechanic. The following parts of UTV can be inspected by law enforcement officers/DMV.
Adequate braking system
Functional headlights, taillights, brake lights, and turn signals
Working horn
Windshield without cracks or obstructions
The properly secured license plate
Functioning seat belts
Adequate tire tread
Payment: 
In the end, pay the registration fee, which varies depending on the weight and type of UTV you own.
Here's How 5 Star Registration Can Help You to Make a UTV Street Legal in Pennsylvania

It may be difficult for someone with no experience to get a UTV registered for street use in Pennsylvania. Professional assistance should be sought. Professionals at 5 Star Registration can assist UTV owners to get their vehicles legalized for use on public roads with minimal cost and effort.
Getting your UTV road-legal is a breeze when you have 5 Star Registration help. They will process the paperwork and have your UTV ready for the road.
Contact the specialists at 5 Star Registration by email or phone and start the process of making your UTV street legal in Pennsylvania.
How to Make a UTV Street Legal in Pennsylvania: Conclusion
Making your UTV street-legal in Pennsylvania is relatively easy if you follow the guidelines outlined above. The process may involve some modifications to your vehicle, but the end result is worth it. Remember to always abide by traffic laws and regulations, and wear appropriate safety gear. With a little effort and investment, you can enjoy riding your UTV on public roads.
Read our other helpful guides here
How to Get a Title for a Motorcycle
Can You Make a Can AM Maverick Street Legal
Calculate your savings
State location:
Arizona
Alabama
Alaska
Arizona
Arkansas
California
Colorado
Connecticut
Delaware
Florida
Georgia
Hawaii
Idaho
Illinois
Indiana
Iowa
Kansas
Kentucky
Louisiana
Maine
Maryland
Massachusetts
Michigan
Minnesota
Mississippi
Missouri
Montana
Nebraska
Nevada
New Hampshire
New Jersey
New Mexico
New York
North Carolina
North Dakota
Ohio
Oklahoma
Oregon
Pennsylvania
Rhode Island
South Carolina
South Dakota
Tennessee
Texas
Utah
Vermont
Virginia
Washington
West Virginia
Wisconsin
Wyoming
State Sales Tax Rate:
0%
Your Current Registration Cost:
5 Star Registration Cost:
$849
You'd save:
Financing your vehicle? Not a problem.
43% of registrations are financed.
$3 000